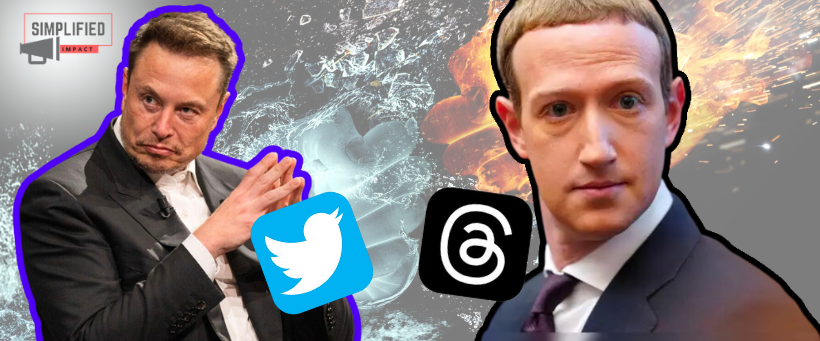 Bye Bye, Birdie: Meta's Threads Takes Aim at Twitter's Crown
Among the various platforms that have dominated the social media space, Twitter has stood out with its unique format of short, real-time messages.  But its reign might soon be over, and I don't think it could come soon enough. 
Personally, I have never been a big fan of Twitter.  I am not even sure I like the idea of Twitter's form of social media – and that means I might be skeptical of Meta's Threads too. Yet, there was a short period in my life when I used Twitter to stay up-to-date on the latest happenings around my campus. As the years went by, I instead started to utilize Twitter for media outreach. What I realized was that even though I was using it for a different purpose, Twitter started to devolve into a digital cesspool of chaos and narcissism.
What's worse is that media is a competitive Son of B***; so if you want your story told, it's important to remember that' where many journalists are looking for story ideas, experts, and sources. Twitter is a great resource for seeking journalists and public figures, that is a whole other story on PR I could tell you about. I digress. Today, I want to discuss the brand new player to social media, how I feel about it, and why I think it's taking down Twitter.
---
We Do The Work. You Dominate Your Business.

   

Get A Quote
---
Meta has officially launched their new platform called Threads to compete with Twitter.
Let me preface all of this by saying that I am not sold on Threads. I've been bored of Twitter for a while now, so why should this feel any different? Either way, I don't care if Threads wins; I want Twitter to lose.  Let's review whether it has the potential to dethrone the microblogging giant. First, in order to fully understand Threads – let's go back in time…
The Rise and Fall of the Twitter Empire
Twitter was founded in 2006 by Jack Dorsey, Biz Stone, and Evan Williams as a side project within the podcasting company Odeo. In 2009, Twitter introduced the hashtag, which allowed users to categorize and follow specific topics. 
As Twitter gained popularity, it experienced significant growth and became a major platform for sharing real-time updates and breaking news, attracting celebrities, journalists, and politicians. I believe Twitter experienced its glory years roughly between 2009 and 2016. 
Between 2016 and 2022, however, Twitter started to experience financial difficulties because it failed to monetize to the degree it should have, suffered from stagnant user growth, and truly struggled to turn a profit. It started to become a breeding ground for toxicity and shallowness and transformed the art of conversation into a race to the bottom, where snark and insults reigned supreme.
Then, on what seemed to be like a whim or the punchline of a joke – Elon Musk steps in. 
Elon Musk finally completed his acquisition of Twitter in October 2022. In the past year, Elon Musk's influence over Twitter has resulted in hostility towards key user groups such as journalists, activists, and advertisers, leading to a decline in the platform's performance. Musk's push for Twitter Blue, a premium membership at $8 a month, has been met with criticism as it proves to be an unreasonable expense for most users, particularly in countries like Brazil. Musk's association with Saudi Arabia's government as an investor has also raised concerns. 
As a result, Twitter's overall service quality has deteriorated, with staff reductions, including important teams like trust and safety, and technical challenges due to fewer servers. The platform's consistent service to its 230 million daily users has been compromised, highlighting the impact of Musk's decisions. But, does Musk care?
"Let's get ready to rumble!"
The Nerds Are Literally Going To Fight This One Out. Yes, you heard me correctly. They are LITERALLY going to fight this out. There is A LOT of smoke around the fire of Elon Musk and Mark Zuckerberg actually fighting an MMA match in the ROMAN COLOSSEUM by next year. The launch of Threads could not have come at a better time. 
Meta's Threads is about to compete directly with Twitter by leveraging Meta's existing user base and network effects. They are promising a better user experience, less junk, and a lot more safety. Let's dive into the features that Threads incorporates in its attempt to appeal to a broader audience.
How Is Meta's Threads Is Different From Twitter
In a post to his Threads account on Wednesday, Zuckerberg said: "I think there should be a public conversations app with 1 billion+ people on it. Twitter has had the opportunity to do this but hasn't nailed it. Hopefully we will." He later said that Threads achieved 10 million sign-ups within seven hours of its launch.
---
We Do The Work. You Dominate Your Business.

   

Get A Quote
---
Threads, the brainchild of Instagram, exploded onto the social media scene as the app where folks can engage in real-time banter, gossip, and all things chit-chat. And let's not forget, it's also a nifty little tool that gives Instagram, the shining star of Meta's product lineup, an extra boost.
Adam Mosseri, head of Instagram, recently said of Threads, "the idea is to hopefully build an open, friendly space for communities" In other words, they want to make sure the experience with threads is different from Twitter in how people interact with their communities writ large. To accomplish this, here are some of the other major differences:
Enhanced Conversational Experience
Instead of character-limited tweets, Threads allows users to create posts with more extensive text, images, videos, and even interactive elements. This expanded format enables users to express themselves more creatively, engaging their followers in richer discussions and interactions.
Focused Communities
Threads allows users to create and join groups centered around specific topics, hobbies, or interests. These communities foster deeper connections among users with shared passions, enabling them to engage in more meaningful conversations. Twitter, on the other hand, primarily relies on hashtags to categorize content, which can sometimes lead to a fragmented experience.
Integration with Meta's Ecosystem
Meta's Threads is seamlessly integrated with Meta's other platforms, such as Facebook, Instagram, and WhatsApp. Can I get a hell yeah? This integration allows users, particularly marketers, to cross-post content and connect followers across different platforms…It will allow me to schedule content all in one ecosystem by selecting the display settings. As a marketer, I love that.
In contrast, Twitter remains a standalone platform, limiting its potential for integration with other social networks. Counter argument – there are scheduling tools for marketers that accomplish that. Whatever.
Emphasis on Privacy and Control
If you've been following along, privacy concerns have only grown more prevalent in recent years and Meta has taken note. Don't believe me? They rolled out a significant update known as "Limited Data Use" on June 1st. 
Threads puts a strong emphasis on user privacy and control, offering granular privacy settings and customizable audience options for each post. Users have more control over who can view and engage with their content, fostering a safer and more personalized social media experience. If you want to learn more about how to safeguard your business's success and avoid breaking regulations (it happens – trust us), read our guide to Data Protection Regulations and Privacy.
Challenges For Meta's Threads And The Potential It Is Showing
While Meta's Threads presents promising features and enhancements, it faces several challenges in its quest to compete with Twitter. Despite a lot of the recent changes and friction at Twitter, it has established itself as a dominant player in the social media landscape, with a large and engaged user base. 
It's simplicity and real-time nature continue to resonate with users who value brevity and quick information consumption. 
So who would win in a fight – Musk's Twitter, Or Zuckerberg's "Twitter Killer", Threads?
Who WILL win and who SHOULD win are different questions…The simple answer is: I WANT Threads to win, and I think it will. 
With enhanced conversational experiences, focused communities, integration with Meta's ecosystem, and an emphasis on privacy, Threads offers a compelling alternative to Twitter. While it may face challenges in overcoming Twitter's established user base and developer ecosystem, Meta's resources and vision position Threads as a serious contender. 
Elon Musk may have accelerated Twitter's downfall, but the platform's inherent flaws have been festering for years. The rise of Threads only serves to amplify the chaos and confusion.  Whether Meta's Threads becomes the next big thing or not, the competition between these two platforms will ultimately benefit users by providing more choices and improved social media experiences. 
Until then, let us embrace the impending demise of Twitter and look forward to a digital landscape where substantive conversations replace snarky one-liners. Goodbye, Twitter, and good riddance.