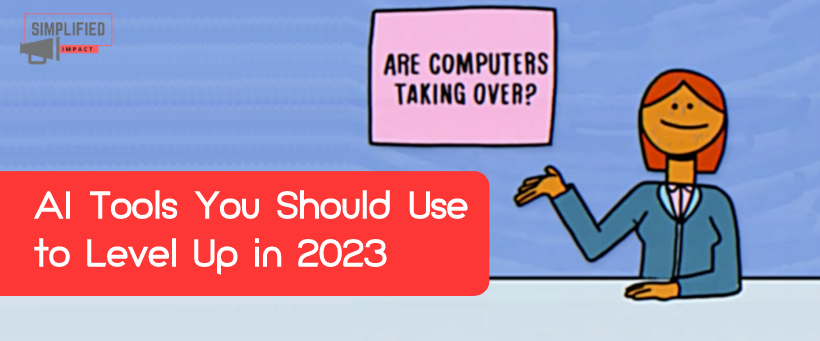 AI Tools You Should Use to Level Up in 2023
Technology is taking over the world, and artificial intelligence has and will continue to play a significant role in this trend. Both big and small businesses are beginning to utilize the power of AI to make their work easier, increase productivity, and improve the experience and satisfaction of their clients or customers.
Suffice it to say, 2023 is crucial for AI adoption. While ChatGPT might be the face of the generation, there are also an infinite number of AI tools out there. 
---
We Do The Work. You Dominate Your Business.

   

Get A Quote
---
So let's dive in.
Enhancing Productivity with AI Tools
In AI, Businesses have found a powerful ally in their quest to optimize efficiency and streamline operations. AI tools offer various capabilities to significantly enhance productivity across various industries and domains. Here are just a few ways AI can support business operations and organizational success.
1. Streamlining Repetitive Tasks with AI Automation
By leveraging machine learning algorithms, AI tools can learn from historical data and perform tasks with remarkable precision and speed. From data entry and report generation to customer support queries, AI automation liberates human talent from monotonous chores, allowing them to focus on higher-value, creative, and strategic tasks. As a result, businesses can achieve greater productivity gains and reallocate their workforce to more meaningful endeavors.
2. Maximizing Efficiency through AI Workflow Solutions
AI-powered workflow solutions revolutionize the way organizations manage and execute their processes. By analyzing vast datasets and recognizing patterns, AI tools can optimize workflows, identify bottlenecks, and suggest improvements. With intelligent automation, tasks can be assigned more efficiently, and deadlines are better managed, leading to smoother operations and reduced turnaround times. As AI continues to learn and adapt, its ability to fine-tune workflows becomes an invaluable asset, enabling businesses to stay agile and competitive in an ever-evolving market.
3. The Time-Saving Benefits of AI-Driven Project Management
Effective project management often requires meticulous planning and coordination. AI-driven project management tools streamline this process, making it easier for teams to collaborate, communicate, and meet deadlines. 
These tools use AI algorithms to analyze project data, predict potential risks, and recommend proactive measures to mitigate them. By optimizing resource allocation and task distribution, AI-enhanced project management ensures that projects stay on track, meeting timelines and delivering high-quality results. The result is increased productivity, reduced project overhead, and, ultimately, a higher level of project success. 
We've broken down a list of some of the top AI software available in 2023. Below is an infographic to break it down for you!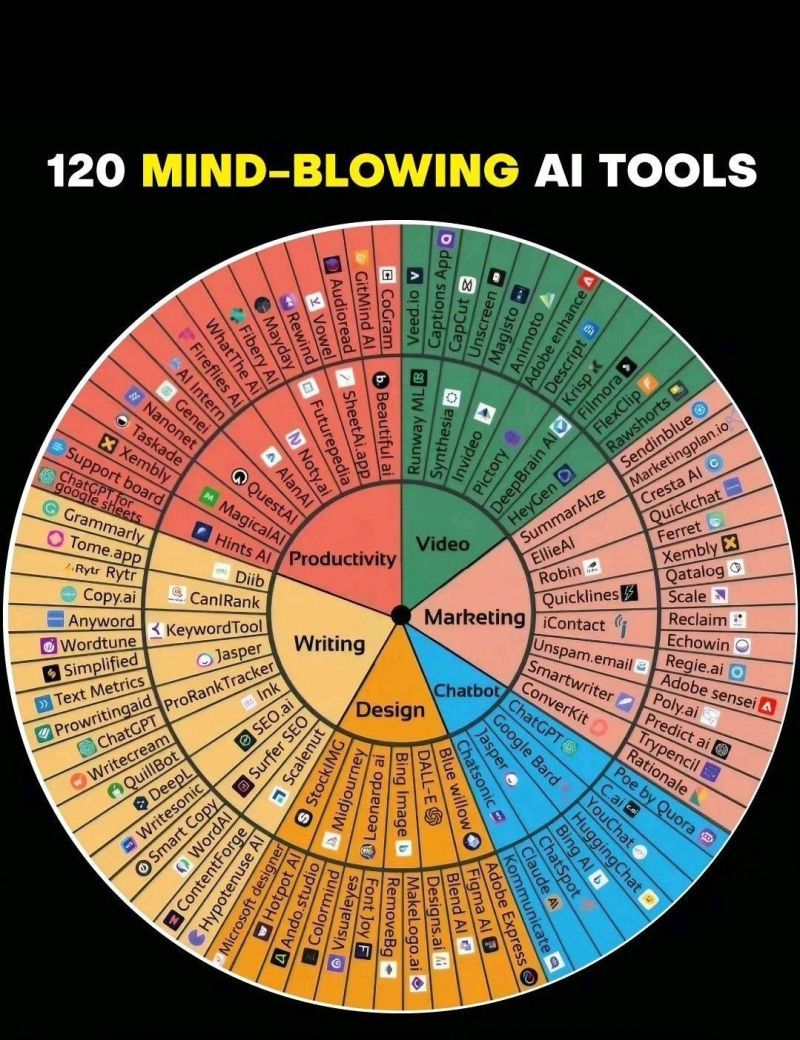 Source: LinkedIn
Here are some tools that we have adopted and approve of:
Otter.ai
Otter.ai uses AI to write automatic meeting notes with real-time transcription, recorded audio, automated slide capture, and meeting summaries. We used to use Otter during all of our calls and uploading podcast mp3 files for automatic transcriptions; however, now we use Fathom, the tool below, to do this.
Fathom
Fathom can do everything Otter can but allows us to automatically record all of our Zoom calls as well. It extracts valuable video insights, such as object detection, sentiment analysis, and scene recognition. We use it at Simplified Impact to record, transcribe, highlight, and summarize our meetings so we can focus on the conversation with clients.
CapCut
The app provides a wide range of editing tools and features that cater to users of all skill levels, making it accessible for beginners and advanced video editors alike. While our media department uses more advanced software to deliver the highest quality video content for clients, our social media expert uses CapCut to stay on top of social media trends, utilize trending sounds, automatically add closed captions and easy video editing.
---
We Do The Work. You Dominate Your Business.

   

Get A Quote
---
With CapCut, users can trim, cut, and merge video clips effortlessly, allowing them to craft seamless narratives or exciting montages. The app also boasts a vast library of trendy filters, effects, and transitions that can add flair and creativity to the videos. Additionally, CapCut offers a selection of music tracks and sound effects, enabling users to add the perfect soundtrack to their creations.
Grammarly
Grammarly seamlessly integrates with various writing platforms, including Microsoft Word, Google Docs, and social media platforms, providing users with real-time writing suggestions and feedback. It meticulously scans text for grammatical errors, spelling mistakes, punctuation issues, and contextual inconsistencies, offering helpful suggestions for corrections. 
Our team has a LOT of projects going on at any given time. Whether it's a simple typo or a more complex grammatical error, Grammarly is adept at pinpointing and guiding users toward clearer, more polished writing for our blog posts. 
It lets us avoid silly mistaks when jugling tasks and moving toe fst…
All that aside…While AI has made remarkable advancements and continues to demonstrate its capabilities across various domains, it still relies on human involvement and oversight to reach its full potential. 
We still need expert input to ensure the ethical use of AI, address bias, and make responsible decisions when AI operates in complex or sensitive scenarios. Moreover, creativity, critical thinking, and problem-solving abilities are irreplaceable assets that complement AI's computational power. 
Additionally, there are new and emerging tools to detect when businesses are utilizing AI. The irony about these tools is that they also use AI to search the web to make these detections. 
Here are some tools to find out when AI was used:
Copyleaks is online software designed to check for plagiarism, paraphrasing, and similar text to a written submission. The website uses the power of artificial intelligence (A.I.) to scan billions of pages across the internet to find any trace of similarities or stolen content to a submitted written piece.
Scribbr is a complete writing assistant that provides plagiarism, proofreading, citation-generating services…and you guessed it: now offers AI detection. Fair warning: While this tool has positive reviews across the internet – I tested this out five times using AI and written text; it would not generate results.
Writer
This tool is another free writing assistant to detect when AI is used. You don't need to sign in or create an account to use the free version. The AI content detector evaluates your text and calculates how much of it has likely been generated by AI. I tested this and have news for you:
This didn't work.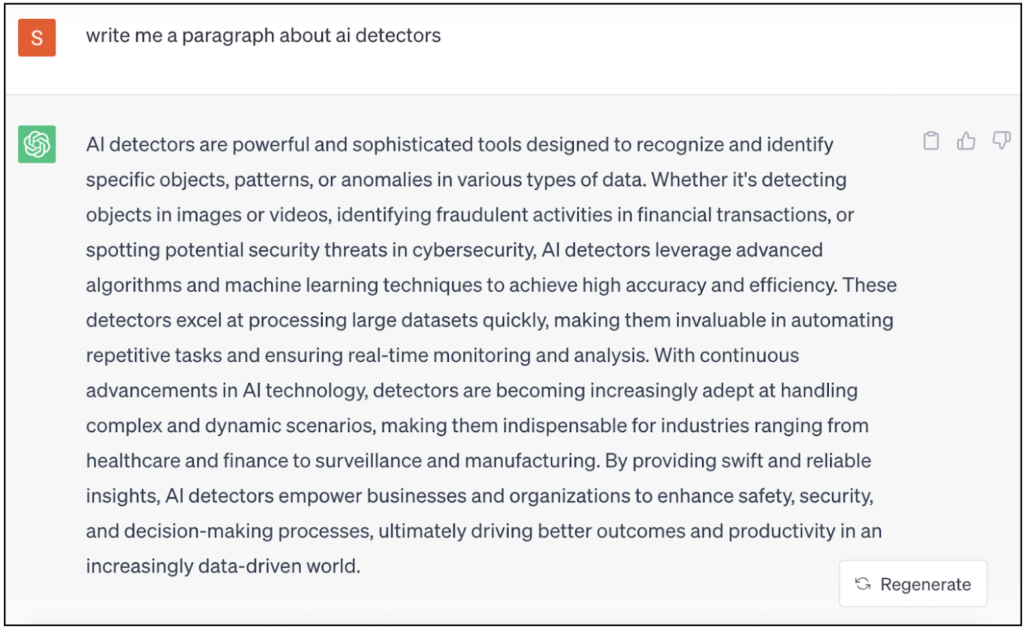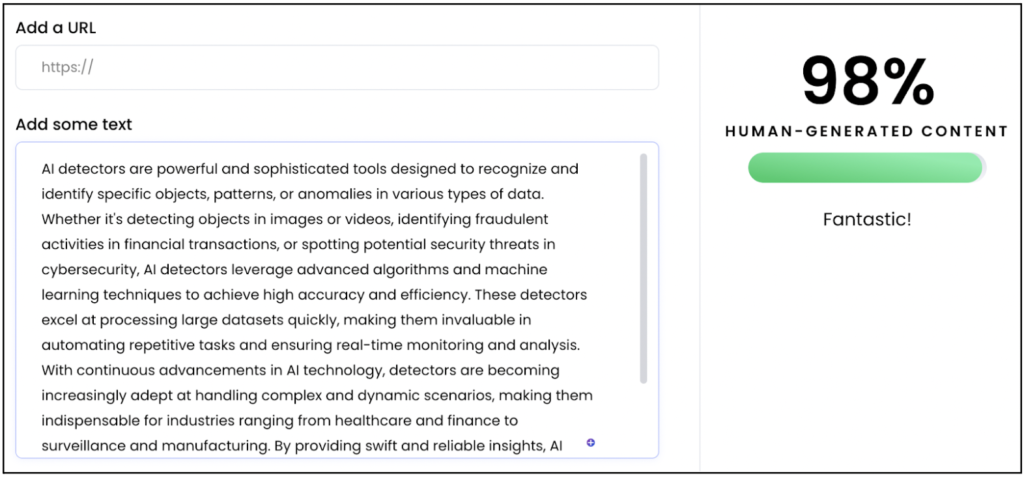 So there are clearly still some flaws. But be warned! 
These tools are evolving, and they WILL be able to detect your use of AI.
AI serves as a support for us humans to be able to make better decisions and spend our time where it matters. The symbiotic relationship between AI and humans remains essential to harnessing the true value of this transformative technology, shaping a future where AI serves as a valuable tool, augmenting human capabilities and enabling us to address complex challenges on a global scale. At Simplified Impact, we're a forward-thinking and results-driven company dedicated to helping businesses uplevel their operations and reach new heights of success. 
With a strong focus on leveraging cutting-edge AI solutions, Simplified Impact empowers businesses to harness the transformative potential of artificial intelligence to drive growth and efficiency. Contact us today to learn more.