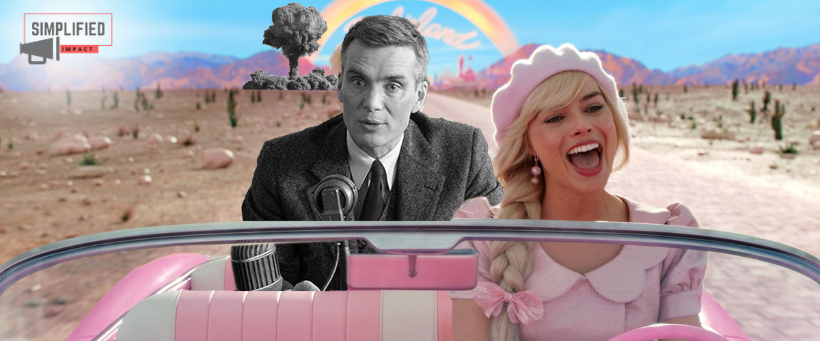 Lights, Camera, Engagement: How The 'Barbie' Movie And 'Oppenheimer' Are Revolutionizing Digital Marketing For Hollywood
The Barbie Movie and Oppenheimer are not just stealing the show on the silver screen, they're also crushing the game of social media marketing and even serving as beacons of SEO marketing growth.
These movies are proving to be more than just mere entertainment juggernauts; they're ingenious case studies of how vastly different approaches can nail social media strategies, product placement, and smart money spending with more accuracy than Luke Skywalker bulls-eyeing Womp Rats in his T-16 back home.
The Barbie Movie And Oppenheimer Are Sparking FOMO With Sizzling Content
Barbie Teaser Trailers
---
We Do The Work. You Dominate Your Business.

   

Get A Quote
---
Oh, Warner Bros., you may have a GIGANTIC mess on your hands with HBO, Discovery, HBOMax Max, losing Christopher Nolan to Universal, and the imploding DCEU DCU. But, we've got to hand it to you, the Barbie teaser trailers had us at the edge of our seats, dying to know the juicy secrets which were afoot.
No spoilers here, just pure anticipation and speculation. Margot Robbie's cryptic remarks only fueled our curiosity, leaving us exclaiming, "Greta Gerwig, what have you got up your sleeve?!"  The trailers were an absolute hit, and they gave us JUST enough info to need more context. People kept coming back for more and more – just to suss out details, look for easter eggs, and to try to parse out the reality from the seemingly idyllic pink world of Barbie. 
More clicks, more views, more comments — it all means more engagement and watch time spent on the WB channels. A perfect storm. 
Oppenheimer Live Announcement
Universal Studios, that live countdown on Twitter and YouTube was a stroke of genius. What a flex.
You had us hooked like fish on a line, counting down to the big reveal.  And boy, did you deliver! Longer trailers, A-list cast members, and a lot of excitement made it a "can't-miss" moment indeed. But it wasn't just the cast, and the countdown that made this work.  
In a very primal move, Universal featured black and white footage of Cillian Murphy as J. Robert Oppenheimer interspersed with large blasts of fire. As Emily Blunt, who is playing Katherine Oppenheimer says, "The world is changing, reforming. This is your moment." A countdown appears with the time rapidly decreasing as another voiceover tells, "you gave them the power to destroy themselves." And another calls Oppenheimer "the most important man who ever lived." What's most striking is that the countdown takes us to the day "the world changes forever."  Yes, it's referring to the countdown of the bomb going off in the film. But, implicit in the subtext is that Nolan's film is going to change the world forever. 
In other words, "don't miss out on the day our top filmmaker changed the world with what is, ostensibly, his best film yet." (extra points have been awarded for the idea that this is Universal getting a little jab at Warner Bros. because they share the same release date with Barbie and they're using WB's former golden boy, Nolan, to beat them at their own game. )
Getting Organic Traffic: Interactive Websites For The Win!
The AI Barbie Selfie Generator
Hey, Barbie, you're looking fabulous, darling! Oh, and everyone else that's using your site is too! Your AI Selfie Generator turned us into virtual Barbies faster than we could say "plastic fantastic." It's like magic, but with pixels! And let's not forget those memes – they spread like wildfire, giving your movie a free promo bonanza. Talk about selfie-powered marketing success!  
This is what happens when you match authority with high quality content and a product that fills a need. 
Once again, this is a perfect storm of events which not only enhances the movie going experience but also helps breathe new life into a product which has been around since 1959. Now if I could only get that AI Ken/Gosling look to be a little bit more permanent I think I'd make some more headway in life.  
---
We Do The Work. You Dominate Your Business.

   

Get A Quote
---
The Oppenheimer Countdown
That Manhattan Project countdown was the bomb (see what I did there?). Wait, why am I referencing this again? Two reasons: 
It shows spending money smartly is just as effective as saturating a market in every way possible. 

Leveraging a known commodity and being confident in your product. 
Unlike Barbie, which is going for broke in its marketing strategy by offering everything from a hot pink mansion to rent on Airbnb to a variety of goods such as a unique makeup kit to Barbie's pink high heels, Oppenheimer's marketing is very indicative of it's main attraction.  No, not Cillian Murphy, Robert Downey Jr., Matt Damon, or Emily Blunt. 
Christopher Nolan. 
For reasons we'll get to in a bit – Nolan is the attraction. 
As such, Oppenheimer's marketing is prescriptive of everything Nolan because it relies on striking visuals, quiet force, effective communication, the wrap of mystery, and a gargantuan helping of subtext. 
The brilliant touch is that that little clock device had us counting down the seconds to the film's release, but it also ties into the plot of the film, while daring us to familiarize ourselves with the historical events too.  Like Nolan, the marketing expects a lot from its viewers, and it's not wrong to do so. 
Universal knowingly taps into the WIDE Christopher Nolan fanboy base in addition to the natural spectacle of a Nolan film. Being the premiere filmmaker working right now, every time Christopher Nolan comes out with a film, it's an incredibly big deal for the industry.  Amid the strikes from the WGA and SAG-AFTRA, much of Hollywood is looking to Nolan as the savior for Hollywood.   
Universal knows full well that a literal countdown to his next project is a gift that would keep giving and it expresses a surefire confidence in the product. Why spend all the money like Barbie (which somewhat has to convince the larger audience to see it) when they can rely on audiences going to see the film simply due to the allure of the Nolan legend? They already know it will be a hit, so let the film do the marketing itself. That's some big brain thinking.
Barbenheimer Stars Shining Bright on Social Media
Selfie Posts From The Cast
When Dua Lipa and the rest of the cast posted their Barbie-fied selfies, you broke the internet – in a good way! With stars shining their virtual Barbie glam, your film's messaging reached millions. Kudos for spreading the love!
Oppenheimer Stars Engage with Trailer Comments
Oppenheimer, you played the social media game like a pro! Getting your A-list cast to join the party and interact with fans in the trailer comments? Oh good god, yes. Josh Peck, Robert Downey Jr., and Jack Quaid – they're the dream team that made your movie's social presence skyrocket.
Our Final Thoughts
In the battle of the summer movie marketing champs, the Barbie movie and Oppenheimer have shown us how different approaches to marketing can equally light up social media like fireworks on the Fourth of July. 
So, fellow digital marketing and SEO nerds, take notes, and learn from the lessons of these brilliant but vastly differing marketing strategies which feature high quality content, social media presence, and attraction marketing mixed with a sprinkle of wit, confidence and creativity.  
Oh, and let's not forget the most important ingredient: an obscene amount of pink. 
Now go forth my friends, and enjoy your double feature of the Barbie movie and Oppenheimer now!
Simplified Impact Can Help You With Your SEO Needs
We might only be talking about the Barbie movie and Oppenheimer here, but what you just read about the SEO isn't even the tip of the tip on the iceberg. Google can be a giant, sprawling, overwhelming mess. If you're a business owner, we understand if you don't have the time (nor the desire) to learn all of this on your own.
That's why you need a team of nerds like us to take care of it for you. This is our job, and our first love. Our SEO experts know everything there is to know about maximizing your copy, and making sure it is broadcast to the right places for the world to see.
We are routinely growing our clients business and in many cases, doubling or tripling their business just because we optimize their page and content. We can do the same for you.
Get in touch with us here