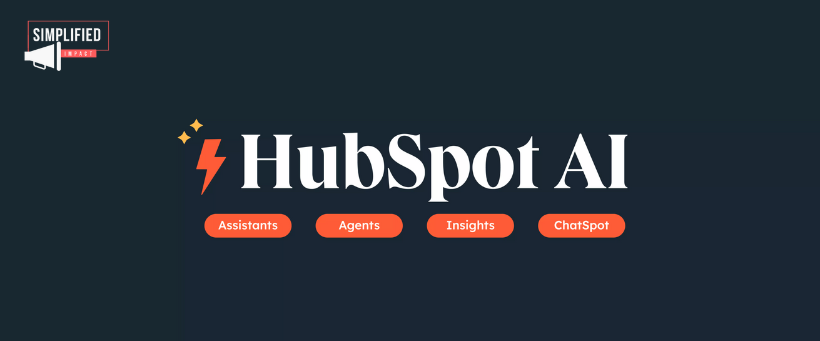 HubSpot Announces 'HubSpot AI': An AI-Powered Digital Marketing Revolution For Small To Medium-Sized Businesses
HubSpot, the digital marketing powerhouse, has charted a remarkable course to success by blending social media prowess, digital marketing wizardry, and their ingenious Customer Relationship Management (CRM) software, Smart CRM. HubSpot, however, is not resting on its laurels like many of those who are in traditional marketing; instead, it's introducing yet another groundbreaking product to propel us into the future: HubSpot AI — AI sales and marketing tools intentionally focused on helping small to medium sized businesses thrive.
Here's How HubSpot (And HubSpot Sales) Is Now Harnessing HubSpot AI
In an exciting twist of innovation, HubSpot is now harnessing the power of AI, steering its clients towards the future of customer acquisition and communication. During HubSpot's recent INBOUND 2023 conference, they unveiled HubSpot AI, an array of AI tools set to supercharge your social publishing, marketing endeavors and content creation.
Christopher Miller, HubSpot's VP of Product for AI, couldn't contain his enthusiasm as he divulged the secrets of HubSpot AI. "It's akin to having your own personal marketing genius seamlessly integrated into the entire platform," he exclaimed just as excitedly as when John Hammond gleefully told Alan Grant why Jurassic Park was so special. 
---
We Do The Work. You Dominate Your Business.

   

Get A Quote
---
What Is HubSpot AI And The Goodies It's Bringing To The Table?
AI Assistants: 
These digital minions are cutting-edge tools designed to revolutionize digital marketing and content creation. These AI-powered helpers bring automation and creativity to the forefront of your strategy:
Email Crafting: AI Assistants analyze data and customer behavior to craft personalized, effective emails, saving time and improving campaign results.
Visual Design: They assist in creating compelling graphics and visuals to enhance engagement and convey your message effectively.
Content Ideas: No more writer's block. AI Assistants provide creative suggestions and brainstorming for engaging content topics.
Productivity Boost: These tools automate content-related tasks, increasing team efficiency and enabling a focus on strategy and quality.
Personalization: AI-driven personalization ensures your content speaks directly to individual preferences.
AI Agents: 
Scheduled to make their debut next year, these virtual customer service champions automate, respond to, and elevate your long term and short term customer service game across various channels, from live chat to email. 
These agents handle routine tasks, such as answering common queries and providing product information, offering customers prompt assistance 24/7. They ensure consistency and accuracy in responses, reducing the risk of errors, and can scale to manage increased inquiries efficiently as businesses grow. AI Agents also personalize interactions using customer data, learning and improving over time. By automating repetitive tasks, they free up human agents to tackle more complex issues, ultimately enhancing operational efficiency. Integrated within HubSpot's ecosystem, AI Agents provide a consistent and efficient customer service experience, fostering satisfaction and loyalty.
AI Insights: 
Functioning like a crystal ball of predictive analytics, these wide range of insights empower you to make spot-on decisions that would make even Dr. Henry Woo envious.
Predictive Analytics: AI Insights utilizes advanced machine learning algorithms to analyze historical data, customer behavior, and various metrics related to your marketing and sales activities. It then leverages this information to predict future trends and outcomes.
Data-Driven Decision Making: Allows businesses to make informed decisions with a high degree of accuracy. This can include forecasts related to lead generation, customer conversions, sales performance, and more.
Lead Scoring: Helping businesses identify and prioritize leads that are more likely to convert into customers. This allows sales teams to focus their efforts on the most promising opportunities.
Content Optimization: It can suggest which types of content are likely to resonate with your target audience, helping you tailor your content creation strategy more effectively.
---
We Do The Work. You Dominate Your Business.

   

Get A Quote
---
Marketing Campaign Performance: This provides insights into which strategies are yielding the best results. This information can help you allocate your marketing budget more efficiently and refine your campaign tactics.
Customer Behavior Analysis: The AI Insights feature can track and analyze customer behavior across various touchpoints, such as your website, emails, and social media. This enables you to gain a deeper understanding of your customers' preferences and behaviors, facilitating more personalized marketing efforts.
Real-Time Updates: AI Insights continually updates its predictions and recommendations based on the latest data, ensuring that your marketing and sales strategies remain agile and adaptable to changing circumstances.
Competitive Advantage: By harnessing AI to gain predictive insights, businesses can gain a competitive advantage in their respective industries. It allows them to stay ahead of market trends and make data-backed decisions faster than their competitors.
ChatSpot: 
A powerful tool born from the fusion of OpenAI's ChatGPT and HubSpot's Smart CRM data. This AI marvel can answer any query about your clients or business prospects, and it possesses the power to craft and edit marketing content. With over 80,000 users and counting, what began as a side project has evolved into a marketing powerhouse.
HubSpot's AI Journey Is Only Expanding
HubSpot has undergone a revamp of its Sales Hub to cater to the AI era, recognizing that selling has embraced high-tech innovations. The upgraded Sales Hub boasts:
A sleek prospecting workspace: akin to the Batcave for all your sales activities, seamlessly unified within one dashboard.
Supercharged lead management and reporting features: complete with auto-generated reports enabling marketers to assess how their leads are performing with their sales representatives.
Intelligent deal management: an AI-powered feature that assists you in prioritizing deals and predicting future sales with an astonishing 95% accuracy.
While generative AI has been the most recent belle of the ball, predictive AI remains a silent hero for businesses. As Miller succinctly puts it, "AI-powered insights like deal health scores are what businesses truly need, and you'll discover them integrated throughout our platform." And let's not forget the exciting LinkedIn integration.
HubSpot has deepened its partnership with LinkedIn, allowing users to synchronize their Smart CRM with LinkedIn Sales Navigator. Though currently in a private beta phase, this integration holds the promise of bringing LinkedIn leads into the HubSpot ecosystem.
What Is HubSpot's Grand AI Vision?
With these AI superpowers, savvy integrations with LinkedIn and OpenAI, and an unwavering dedication to SMBs, HubSpot aspires to become the go-to marketing and sales platform for modern businesses. 
Miller encapsulates it perfectly: "We're here to ensure that SMBs effortlessly embrace and leverage groundbreaking technology like generative AI. They lack the time and resources for extensive tech research – that's where we step in as a trusted platform, assisting them in 'growing better.'" AS such, HubSpot's future is poised to be smarter and more efficient than ever before.
The latest advances are potentially empowering you focus on strategy, create content as necessary, search engine optimization (SEO), reach your target audience effectively, create engaging video content, optimize your digital marketing strategy, and harness the power of marketing automation, landing pages, mobile apps, and affiliate marketing in real-time.
Do you need assistance with your digital marketing, content creation, ads? We can help! From our biggest corporate clients to the small business owner who just started a coaching firm, we have your best interests at heart. This is not just a J-O-B for us. This is our life. We eat, sleep, drink, and dream about the fine amalgam of the science behind data and the art of storytelling. When you choose us, we don't just give you a roadmap to success, we're looking to make maps irrelevant.