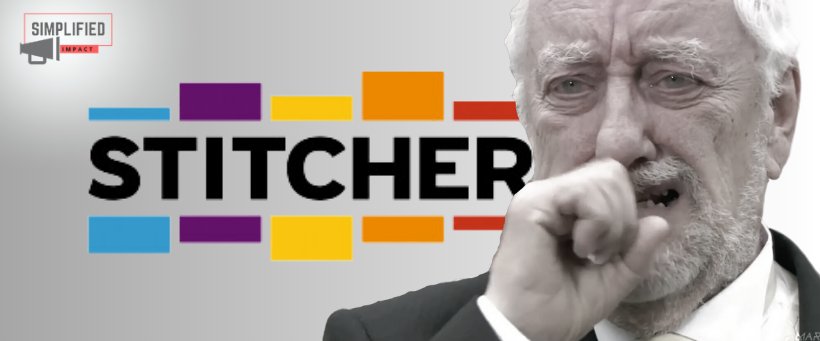 The Stitcher (And Stitcher Premium) Podcast Disappearing Act: Silence, Confusion, And The Shutting Down Of An App-Loved Era
Stitcher, (including Stitcher Premium) one of the longest reigning podcast-listening apps, is about to pull a vanishing act after a glorious 15-year run. 
Brace yourselves for silence as the Stitcher apps  and web-streaming audio service go offline on August 29, 2023. Yes, folks, you heard it right. It's like the final episode of The Sopranos but with even less closure and more confusion.
In a bittersweet farewell note titled "Stitcher Farewell", Stitcher and people behind the Stitcher podcast app, spills the beans: its overlord and parent company, SiriusXM, wants to monopolize the podcast world and has big plans to integrate podcasts into its flagship SiriusXM subscription business: 
---
We Do The Work. You Dominate Your Business.

   

Get A Quote
---
SOURCE: SiriusXM, the owner of Stitcher, is focused on incorporating podcasts into its flagship SiriusXM subscription business. Subscribers can listen to podcasts within the SiriusXM app and will see an all-new listening experience later this year.

All podcasts on Stitcher can also be found anywhere else podcasts are distributed.
Fret not, dear Stitcher app fans, for the name shall live on! 
Even though the popular podcast app will be going the way of Salvatore "Big Pussy" Bonpensiero, Stitcher Studios and Earwolf networks, the creative geniuses behind the scenes, will continue their operations. Phew! At least some part of the Stitcher legacy will endure, like a lone podcast warrior fighting against the silence. SiriusXM assures us that most podcasts previously available on Stitcher will find new homes on other platforms. Like its cohort, the Stitcher Premium service, the ad-free oasis for podcast lovers, is also bidding us farewell.
Hosts and creators of podcasts exclusively available on Stitcher Premium will have the authority to decide on the availability and accessibility of their shows. The company suggests that audiences stay updated by following the hosts/creators on social media or subscribing to their newsletters.
SiriusXM executives say incorporating Stitcher podcasts more seamlessly into the flagship SiriusXM subscription service will drive further growth
In an internal memo addressed to SiriusXM staff, executives Joe Inzerillo (Chief Product and Technology Officer), John Trimble (Chief Ad Revenue Officer), and Scott Greenstein (Chief Content Officer) clarified the strategic motive behind shutting down Stitcher. They emphasized the importance of podcasts in both the subscription and advertising strategies of SiriusXM. 
Consequently, the decision was made to sunset the standalone podcast listening app and prioritize these strategic objectives.
---
We Do The Work. You Dominate Your Business.

   

Get A Quote
---
The memo also stated that the Stitcher team has been fully integrated into SiriusXM, and podcast programming has been aligned with comedy and entertainment within the company's reorganization efforts. This integration aims to provide a new platform for renowned podcasters on SiriusXM while introducing prominent personalities from the roster to podcasting.
Sources familiar with the company have confirmed that the shutdown of the Stitcher apps and web listening experience will not result in any layoffs. However, in March, SiriusXM had announced a reduction of 475 jobs, about 8% of its workforce, citing economic uncertainty and the need for enhanced operational agility and efficiency.
Stitcher initially launched its podcast app in 2008 and has changed ownership multiple times since then. SiriusXM acquired Stitcher from E.W. Scripps in 2020 in a deal valued at up to $325 million. Previously, E.W. Scripps had acquired Stitcher for $4.5 million from Midroll Media four years earlier.
SiriusXM has ceased automatic renewals for all Stitcher Premium subscription plans 
Refunds will be issued to Stitcher Premium subscribers who directly purchased a plan from Stitcher, with the original payment method being used for reimbursement. Users who purchased access to Stitcher Premium through the Apple or Google app stores will receive refunds processed by their respective billing platforms. The notice states that refunds are expected to be processed starting from August 29, and customers are advised to allow up to 60 days for refund processing.
The SiriusXM Podcast Network remains unaffected
The SiriusXM Podcast Network, consisting of Stitcher Studios, Team Coco, Earwolf, and SXM Podcasts, will not be hampered by these changes. These entities continue to provide audio content and advertising services, featuring a wide range of shows such as "Let's Talk Off Camera with Kelly Ripa," "Sounds Gay," "Sound Detectives," and an upcoming children's series by LeVar Burton. Additionally, SXM Podcasts holds an exclusive deal with Kevin Hart's Hartbeat for radio and podcast productions.
What does this mean for the industry? Well, time will tell. That's a big market share which is now looking for new homes and new listening spaces. 
Either way, dear, dear, Stitcher – we bid you farewell. May you rest in peace, and in onion ring heaven with our beloved Tony…
Do you need help with your podcast production? We can help! Our podcast editing service includes 20 years of expert podcast production services, and 20 years of unparalleled SEO mastery. While our competitors can give you only one or the other, we actually do both.  SEE OUR SERVICES HERE